Pop tarts and cereal are how we often start the day on the Conch Pearl.  Sea Base sets the menu and provisions the boats—I am not to blame!  And that is how this day began.  The menu is designed for easy preparations and mass appeal (to teenagers, woe to us old farts).  Everything tastes better out on the water anyway, so there is little complaint about the food aboard from our guests.  Tim has said this many times in the day he has been aboard.  Unlike other high adventure experiences, this is not the one where your fellas will come home having lost weight!
After breakfast we hoisted sails and departed our mooring ball off Fleming Key.  Last night was pretty uneventful, considering what the radar looked like before we went to bed.  We headed out to the reef line south of Key West.  Winds were SE around 15kts, so a little bouncy.  By the time we made the reef,we had one guy succumbing to seasickness. Mitchell ended up sitting out the first dive at Eastern Dry Rocks because he just felt too queasy.  Unfortunately the bonine wasn't working.  He was looking a little pasty.  Hopefully tomorrow will be a better day for him, maybe someone will find some Dramamine for him to try.  Visibility was around 30ft, not awe-inspiring, but not bad, either.  And did I mention the water here is warm?…
We had lunch on the way to Sand Key Lighthouse, which is west of the previous site.  Our favorite mooring ball there has a huge boulder coral nearby, in about 30 ft of water.  The guys liked the spot very much.  Will gets the enthusiasm award for the week, so far (though closely followed by Tim).  As he comes up the ladder after a dive, Will seems to always spit out his regulator to tell us about his wildlife sightings!  It does my heart good to see guys enjoy themselves so much!  We did a third dive on another ball at Sand Key then motorsailed back into Fleming Key anchorage.  By 5:30 we were tied up, and the kids were itching to go swimming—though it was more really jumping, diving, and the occasional belly flopping!  Priceless!  Even the adult leaders got in on the action!  After they began to run out of steam, bait fishing became the activity of choice—a little less physical effort involved.  But still, they fished with enthusiasm, just less splashing!  All in all, it was a good day.
And our crew leader, who has heard me rant on "washing dishes—the lost art", outed himself to me this evening.  Apparently he works part time at a catering job, so he is pretty good at cooking and clean-up!  He was very kind in not withholding this information until the last day!  So, Chris, I'll have high expectations of you this week!  Actually, my expectations are usually pretty low, because often I must ensure that the galley crew washes their hands—it's not an automatic reaction to showing up to handle food.  Usually I give a little lesson on how to use a can opener (not the fancy "no sharp edges" opener my Mom and Dad sent me to keep scout fingers safe—that one is WAY TOO complicated).  Often I stand guard against keeping the dish towel safe and sanitary—"no, it is not for wiping your brow as you stand befuddled with the confusing can opener!"  As I said in a post last week, my standards are not high!  But I do try my best to convince the scouts every week that knowing your way around a kitchen will only do you good in life, and besides "girls like it" when a guy can cook.  Makes a fella downright irresistible, right?!?!?
So we finish out this day with a baited line in the water, a live fish wiggling, trying to lure up a small shark.  These boys LOVE to fish.  If we catch a shark, I think Will might spontaneously combust!  Up in a puff of smoke, he'll be so thrilled!  Hmmmm, I wonder how I'd deal with the paperwork on that…….
Signing off, Holley Whitley,  Senior Damage Control Coordinator of Conch Pearl's galley
Another Sunday, another troop aboard the Schooner Conch Pearl.  This week we welcome Troop 1 from St. Helena, CA (Napa Valley country).  It looks to be a promising week—I've seen evidence of artistry afoot!  Young Will has his sketch pad out already, and just before bed I noticed someone with a guitar (or ukulele, not sure, it was dark!)
Today was a busy day, so not much time for the "getting to know you" business.  The first day of a trip is always like that, but tomorrow will remedy that.  Troop 1 has already spent a half day (and last night) at Sea Base in Islamorada.  Today they were delivered by Sea Base vehicles to us on Stock Island (yep, where the cattle were kept when Key West was a frontier town, centered around Fort Zachary Taylor).  The guys brought piles of supplies they'd need for the week aboard, food, ice, dive gear and personal items.  It amazes me each week that it all fits somewhere aboard!  Next week, I'll be sure to give you some photographic evidence of this feat!
After a boat briefing, we had lunch at the dock.  Then we dropped lines and pushed off to begin our adventure!  In the channel not far from our dock slip, the mainsail was raised.  That is the rearmost sail on a schooner.  Because of the angle of the wind, we could not raise our jib/staysail (front most sail on our boat—and we have no bowsprit, so it really is a staysail—for those of you who know your sail terminology).
Our destination was Western Sambos reef, just south of Stock Island, and a little east of Key West.  The mooring balls we usually take were occupied, so we ended up a little more east of our normal dive spot.  The first dive of every scout trip is lead by our dive instructor Megan, with half the troop, and Jim, our divemaster, with the other half. These dive professionals are making sure the participants are comfortable in the water, good with buoyancy, weighted out correctly, etc. It wasn't a fabulous dive, but at least it was okay.   And for these California divers, the warm water was a luxury!  By the time the first dive was over, the moorings we usually dive were clear, so over we moved.  This time the California fellas got to swim off in their buddy pairs, navigating on their own.  I am pleased to report that everyone returned safely, at the appointed time, no problems, navigation errors, or other serious issues, etc.  Like I said, looks to be a promising week!
We do have one person aboard who is only able to snorkel this week, due to Sea Base's strict medical policies.  But Ryan will get to snorkel, and in fact, did at our second stop today.  Superhero divemaster Jim accompanied him so that he would have a buddy in the water.  It's a scout policy, and just prudent behavior.  All in all, a good time was had by all.  We are currently (it's 11pm) moored off Key West in an anchorage next to Fleming Key.  The skies look cloudy, and there is a threat of rain.  I hope not, because it looks like everyone is planning on sleeping on deck.  There are bunks below, but without air conditioning running, it does seem stuffy and warm.  But, it is one of the reasons this is called "high adventure!"  That's all to report for this go round.  Until tomorrow,  Holley
Psychadelic drawers….
Andrew demonstrates how to impress a girl!
It started off as some of the others, a quick breakfast eaten underway.  After an easy cleanup, Megan briefed the guys about packing up their gear to get a jump on things.  We had one dive planned, then back to the dock for disembarking.  Vans from Sea Base would be there around 1pm to drive the guys back to Islamorada (about an hour and a half ride).  Someone noticed that our trusty divemaster Jim had not gotten out of his bunk yet, so how was he going to get this info?  Pesky boys, knowing this wasn't Jim's first rodeo, they also knew that Jim was getting a little tired.  Being much older than they (Jim's 19), he was wearing out!  (I'll take this moment to come to his defense.  Jim and Megan do not get any time off.  They literally work 7 days a week for Sea Base, saying good bye to one troop on Saturday mornings, and hello to the next group by Saturday afternoon.  To heck with labor laws, this is THE BOY SCOUTS OF AMERICA!)  Our fine fellows of Troop 31 decided it was time to wake up Jim–he was missing some of their fun!  They all quickly and quietly (relatively) piled down the companionway ladder.  Fortunately (or not) for Jim, he was no longer in bed, but in the head, taking care of his morning's ablutions.  Were he in bed, I don't know if the bunk could've held them all!  Evan planned on spooning! J So change of plan, they all crowded forward into the very small space just outside the head door, and waited.   And waited.  And waited!  But they all stood poised, ready to pounce, breathlessly balanced, trying not to shift and tip off Jim with the noise!  Megan passed around some of the little paper party horns we'd had for her birthday.  Poor Jim, all he wanted was a private moment!  But that's not likely to happen on a scout trip, Jim!!!  Jim scooped us all by finally opening the door, sunglasses on, and stands there unfazed as everyone leans in with a noisemaker unfurled in his face.  "Well, see you later!" he says, and unfazed, steps through the crowd of boys.  It seems our Jim is unflappable!  I'll post the video I took on youtube, soon.  Still with the technical difficulties.  At least today I'll have some time to spend on hold with technical support! 
http://www.divespots.com/scuba/view.divespot?spotID=75  The Haystacks at Western Sambos was our dive site. And I need to correct my earlier blog entry, I linked divesites.com, but it should've been divespots.com.  Ooops!  I am going to go back to that post and fix the link. 
It was a good last dive, visibility and sea conditions wonderful.  It was hot on the deck of the boat, barely a breeze flowing.  Spirits were running high, but you could tell the guys were switching gears.  Maybe finally getting tired, but I think a little mellow knowing this was their last dive of the trip.  We steamed back into the dock, eating some lunch underway. 
Once we docked, the guys loaded up their belongings, and helped clean the boat so we would be ready for the next troop to arrive on Sunday.  That the way it goes every week on every boat in the Sea Base sailing programs, current participants clean up after themselves (with some guidance and lots of help) so the boats will be somewhat presentable.  The guys help swab the decks (fish blood, Pringles, seaweed, and often, but not this week, BARF and etc), clean the head (No, it is not cleaner than what you found it.  Yes, you did really make that mess.  Remember Denny saying to "sit down, your aim is not as good as you think it is!"—perhaps a lesson you could take home with you…..), disinfect the galley, wipe down the bunks (love those vinyl cushion covers), vacuum the carpets.  The guys worked hard, but with many hands it makes for fast work.  In about 45 minutes we can bang all that out, and it would take a half day for Denny and I to do it.  So thanks, guys, for all your hard work! 
Before they began the trip back to base, I insisted they give me a performance of their skit since Denny and I wouldn't be attending the Luau.  My recording is the "out-take reel", performed on the deck of the boat and with a few flubbed lines—but that made it even better, I think!  I have a link here to Megan's recording of the Luau (she is so far more technologically advanced, I am certain she is farther along on the evolutionary ladder…)    http://www.youtube.com/watch?v=RETevjpAfcg   The guys did good!  Skits are becoming a thing of the past, especially at Sea Base.  Troops are not expected to come up with one anymore.  But the creative energies could not be contained by our guys!  Put me down for impressed!
So guys, if and when you read this at home, I hope you'll have fond memories of your week with us. I know I will.  Stay tuned for further adventures on the Conch Pearl blog.  Remember what I told you about how much I post……Bye for now,  Holley
Through the grapevine, I hear this blog is actually getting viewed, at least back in Pennsylvania—the home of Troop 31.  Awesome!  My hope is to give all you folks left back home a sense of the adventure your troop is experiencing.  Feel free to give me some commentary, even requests.  I'll accommodate if I can!
As for another day in the life of our high adventure….I must begin by a little digression.  Soon after we began cooking breakfast, I began to realize that certain members of Troop 31 have been holding out on me—been misleading, dare I say!  "Whatever do you mean, Captain Holley, a scout is honest?"  I can hear many of you asking (assuming there are more than 3 readers….).  Well, it has become apparent that while young Mr Hartsky has been somewhat reserved, stoic even, has been hiding a talent.  A very useful talent……He is perhaps the best pancake flipper I have had the pleasure to welcome aboard!
There, Chris, you have officially been outed!  Once again, I am caught short in the photographic evidence department of the pancake action, but you are GOOD IN THE GALLEY!  A rare distinction among the scouting crowd, I must confess. But in a later blog post, I will discuss the horrors of galley duty on these trips. Suffice it to say I am the one in charge of cooking, damage control being my main mission while we sling out three meals a day for 16 people aboard.  So it is a pleasure to have some able help in the galley.  It's not gourmet expectations I have whilst on a scout trip.  But I do like it when fellas know when to wash their hands without being told to do so.  I like it when the guys cooking the breakfast sausages does NOT SNEEZE on the skillet, and no, the fact that heat kills germs is not an excuse for that offense!  And I especially am pleased when I don't have to tell boys that wiping soapy wash water off dishes with a clean towel does not suffice as a rinse.  So, you can see, my standards are not high, but I do have standards!  I'll take this moment to also name some another name in the honorable galley mentions:  Quin Savant.  Though he, too, has waited until day 5 of our adventure to come clean about the fact that he works catering jobs part time!  He, too, knows his way around good and safe food handling!  Why have you hidden this from me all week, Quin?  Hhhmmmm?!?!? Well, at least I know now, and heartening news it is!  Thanks, guys!
Now, back to our day's activities…….After the feast of breakfast was cleaned up, we left the dock for our day's diving.  We ended up at a site known as the "Hump", because it is literally a big hump of shallower water surrounded by deeper water.  It is south of Western Sambos, which we will likely dive tomorrow.  And it is north of the Vandenberg, a large and famous wreck here in Key West.  It took us a while to drop the anchor.  Cloud cover kept Denny from being able to see a good sand channel.  Dropping the anchor on coral is only killing coral needlessly.  It is fragile stuff indeed.  The dive was another good one.  These guys are getting spoiled with good visibility.  They won't be satisfied with quarries anymore!  Some reported seeing eels, a turtle, and a nurse shark (I think).  Evan always spits his regulator out as soon as he ascends to breathlessly announce what he has seen!  He wins the unabashed enthusiasm award!
You can look up some of these dive sites on the website www.divesites.com .  The Hump will not be on there, but most others will.
After our first dive, we pulled anchor and went south out into the deeper water offshore.  We could just barely make out land, and sometimes not even.  The boys worked the fishing lines, keeping the weed and grass that floats on the surface off the lures.  Diligence paid off, and we caught quite a few mahi-mahi (also known as dorado, or dolphin fish—not Flipper!).  Some were too small to keep, so we threw them back in to grow up some more.  But two were keepers—and graced our table tonight.  The filleting was finished just before we stopped at another dive site, 9 Foot Stake.  It was another awesome dive, with good visibility and good wildlife sightings.  Quite a few guys saw nurse sharks, and even some lionfish.  Our dive master Jim was back at the ladder, fins off, when Megan surfaced and mentioned the lionfish to Jim.  His primal instinct took over, and off he went for the thrill of the kill.  He did dispatch one of the lionfish, while the other got away.  So only partial satisfaction for him there.  But, I am certain he'll try again next week.
After the dive, the boys wanted to jump off the side of the boat, again.  The flips, jumps, dives, pushes, squeaks and squeals (Evan) abound—I think they enjoy that as much as diving.  Today it took an evolutionary turn, as Mr. Welsh upped the ante.  He produced a nerf football from his bag of tricks and got the guys to try various complicated maneuvers with it.  Mr. Welsh would toss it mid-air as a boy would jump from the gate, catching it as he landed sideways in the water.  That quickly progressed to the first guy to jump received the pass and tossed the ball onto the next guy behind him, who would be in mid-air as he received the ball, who would in turn do the same for the next in line.  Sometimes they got it quite well, and sometimes it was an utter flop. But it was impressive to see when it went right.  A hoot to see when it went wrong!  Our divemaster Jim was watching from the water, still wearing his scuba gear, and laughed so hard he gave himself the hiccups!  That's the true mark of a good time!
Time was growing late.  We still had to motor into our anchorage for the evening and cook our luxurious high adventure dinner of steak and mahi.  So after about two hours of jumping and whooping, we dropped the mooring line on 9 Foot Stake and made our way into shore. The galley crew helped me get dinner started, then went above deck to bait fish with the rest of the gang.  We were just finishing cooking as the sun went down.  And we did manage to get a good picture of the whole gang on the deck of the boat with the sunset in the background (but it was Dr. Biggs camera, so again no photo from me!).  The guys did a thorns and roses while we were just finishing the cooking.  I didn't hear it all, but I think the general consensus is a big thumbs up!  I'll take a moment to wax poetic, and say this was a great week for us, the boat's full time crew.  These guys worked very well together all week long.  Everybody was upbeat and of generous spirit.  That makes all the difference in the world, to us, who do this trip all the time.  The only thing that is different (other than the weather) is the people.  And when you've got a good group of guys that get along, like each other, and are willing to roll with the whole experience—it makes for a great time!  And we've all had that this week!  Tomorrow is the last day of the adventure.  One dive in the morning is all there's time for, then into the dock.  The guys will disembark, help tidy up the boat for the next troop (arriving on Sunday at the boat) and return to Seabase for the night.  So hopefully tomorrow will be the icing on the cake.  I'll keep you posted.  Until then, I'll publish this and catch up with you again tomorrow.   Goodnight,  Holley
Last night's dive on Looe Key was a hit!  Conditions were great, with good water clarity and flat seas.  Everyone enjoyed the dive, some saying "It's one of the coolest things I've ever done!"  Evan was the only one to admit a little anxiety before going in—and being nervous in the water, though more for his mates than himself.  He described it as his "maternal instincts"!  That boy is the life of the party—true chuckle-head, he is!  Though water and air temperatures were comfortable, most folks enjoyed a cup of hot chocolate on the ride back into the anchorage.  We dropped the hook near Key Lois, one of the more remote anchorages visit.  Without a lot of light pollution, the star gazing is incredible there.  It was a beautiful night.
This morning we got moving after breakfast, and returned to Looe Key for one more dive.  These guys are really lucking out with conditions, because visibility was again very good.  Denny had planned on two dives at Looe, because it's just that beautiful of a site.  But the boys (being boys) decided Looe Key was a great spot to jump off the side of the boat instead of spending the time scuba diving!  So another hour or more was spent whooping, hollering and generally acting a fool as they leapt, pushed and sometimes even dove off the boat.  When they finally had worn themselves out, we dropped the mooring line and made way back towards the west.  Tonight is our midweek break, spent at the dock on Stock Island (next to the island of Key West).  We did try to catch another fish as we sailed along, but it wasn't to be.
Once we docked at our slip, everyone piled off the Conch Pearl to head up to the showers.  It's a sweet luxury after a few days of rinsing off on deck with the hose.  After dinner on deck, we celebrated our scuba instructor's birthday!  Megan turned a quarter century today, hip, hip, hooray!  We all sang to her, and blew our little paper party horns (probably not my best choice—but the guys were incredibly enthusiastic with them) and then ate some tasty ice cream cake!   Now they are off on walk about—a convenience store is nearby.  They'll likely be sporting quite the sugar high tonight!
And so we end another day aboard the Conch Pearl…..Holley
We finally caught a keeper while fishing offshore today!  A mahi-mahi bull 27 inches long, will grace our dinner table tonight! Evan reeled in the fish, and learned how to fillet from Captain Denny.  Unfortunately I did not capture the moment on film.  We are currently sitting on Looe Key reef, awaiting time for a night dive.  We arrived here a few hours ago and the guys and Megan had a great dive.  Evan and Dakin reported seeing a startlingly large Goliath grouper.  Others commented this was the best dive yet.  Visibility was really good, 60 feet or more.  After the dive, the boys decided doing flips off the side of the boat would be a great way to burn some energy.  I'll post some video if I can overcome my technical difficulties!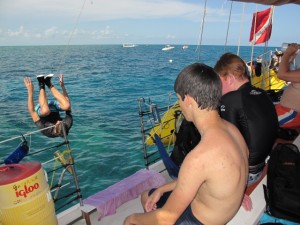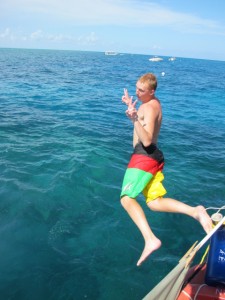 So after much brow beating from various friends, I have decided to try to blog more often!  It should be a good way for folks to follow what's going on during our hectic summers of boy scout charters.
Today was our first full day with Troop 31 from Pennsylvania.  The day got off to a slow start because I woke up with a serious ear infection, the dread of divers everywhere.  Fortunately here in Key West there is a mobile doctor who will come to you, this one will even come by boat.  Fortunately I didn't need him to go that out of his way, but I did have him meet me at the fuel dock at 9 am.  After a quick look over (and in–the ear, that is), his prognosis was it wasn't fatal!  Whew!  He gave me some antibiotic ear drops, told me to take the leftover antibiotic pills I had from my last misfortune, and see how it went.  At least my eardrum is okay, and the pain is currently not getting any worse.
My steadfast scouts took the detour with aplomb, and off we went to the reef line south of Key West.  The water was beautiful, visibility around 60 feet (or more, when the sun finally peeked out from the clouds).  We managed to get three great dives in, one at Sand Key (home to an old light house south–and icon in Key West), one at Eastern Dry Rocks (where you can find old encrusted chain from long ago shipwreck), and one at a spot called Kedge Ledge (three old coral encrusted kedge style anchors, big as a man, are laid along a pretty little ledge).  All in all, it was a nice day.  The weather is quite warm, and not much wind blowing.  Makes for a steamy time on deck, but fabulous visibility on the reef!
The above picture was taken at Kedge Ledge.  Jim is doing his part to eradicate the exotic invasive!  Lionfish have been reproducing in alarming numbers, and biologists are concerned about their impact on the reef habitat.  Apparently lionfish will eat anything, and have no predators in this region of the ocean.  Time will tell how they alter their new environment……
And so I shall end my latest post.  Hopefully I can keep this up this summer.  🙂
Holley