The Boat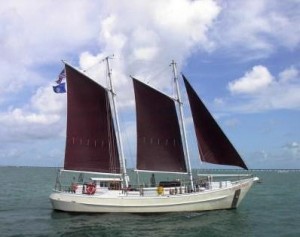 Built in 1988 by Treworgy Yachts in St. Augustine, FL, Conch Pearl is a gaff-rigged Trade Rover schooner, one of only four built of this particular Merritt Walter design. She is 60 ft long, has a 16ft beam and draws almost 7ft of water when fully loaded with dive gear (she weighs nearly 90,000lbs). With her steel hull and rugged design, she's the perfect boat to haul around a load of scuba divers and all their gear.
As a United States Coast Guard Inspected Passenger Vessel, Conch Pearl is licensed to carry up to 37 passengers for day sails and 12 passengers for overnights.  Conch Pearl carries the following gear for your safety: fire and carbon monoxide alarms, fire extinguishers throughout, a fixed fire extinguishing system in the engine compartment, three VHF marine radios, life jackets and life floats, a 406 EPIRB (electronic position indicating rescue beacon), a first aid kit and a diver recall system.
The interior of CONCH PEARL combines rustic charm with durability and comfort.  She has white oak paneling for a bright appearance below decks. A heavy oak plank table is the center piece of the main cabin. It is a great gathering place between meals! The galley is well appointed with a refrigerator, freezer, three burner propane stove with oven, and an array of other culinary gadgets.  An inverter is available in the main cabin for recharging your electronics. Remember, space is limited aboard the boat, so bring only what electronic devices (phones, cameras, computers) you will use.
Below deck, she is an open boat, comprised of two cabin areas for passenger berthing. Most of the bunks are singles, but there are two double bunks in the forward part of the boat. There are no private cabins and one head for passengers to share. So bring along people you like!  If you are adventuresome, bring along a mat for sleeping on deck beneath the stars for a breathtaking treat!